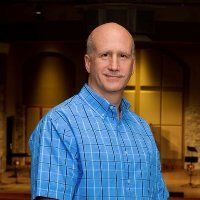 Warren is the Senior Pastor of Sovereign Grace Church. He is the primary preaching pastor, oversees the leadership team, and provides pastoral care to the congregation. Warren taught at Delaware County Christian School in suburban Philadelphia prior to joining the pastoral staff at Covenant Fellowship Church in 1990. In 1993 he was sent out from CFC along with a team of people to plant a church in South Jersey. Warren lives in Cherry Hill with his wife, Kim. The Boettcher's have five children and are grandparents of six with more on the way.
Jason is the executive pastor at SGC. He graduated from Towson University with a B.S. in elementary education, a degree he never had a chance to use because of a call to pastoral ministry. Jason has been a pastor for over twenty years, and has had the privilege of serving at SGC New Jersey for the past nine years. He and his wife, Laurie have four children and live in Mount Laurel. Jason is an avid reader, loves music, and all kinds of sports!
Andrew is an associate pastor. He earned his BA in Biblical Studies from Life Pacific College in San Dimas, CA. Prior to joining SGC, Andrew was the lead pastor and church planter at Covenant Community Church, part of the SGC family of churches in West Philadelphia. Currently Andrew oversees Catalyst, our parent/youth ministry and Resolved, the ministry for young adults. Andrew and Christina have three children and live in Pennsauken. Andrew enjoys the simple things in life with his family. He enjoys good conversation, good friends, the outdoors, and investing in and sharing life with the people that make up the local church. He sees it as a great privilege and responsibility to pastor the saints at Sovereign Grace Church.
Associate pastor/ FACILITIES
Scott coordinates care and upkeep for SGC's building and tech platforms as well as working pastorally. A native of Bloomington, IN, Scott did both his B.A. and M.A. at Wheaton College. Before coming to SGC Marlton, he lived and worked in mainland China for many years. He and his wife, Katie live in Riverton with their five children.